THE DIFFERENCE OF A DIVE COMMUNITY !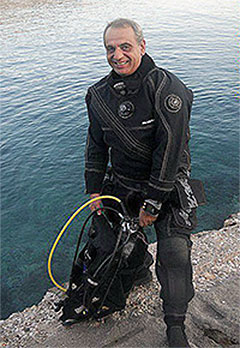 Theofilos Damaskinopoulos
"With over 9.000 hours of living underwater, I feel twice as happy and content"
PADI instructor (instr. No: 269477)
EFR instructor
EOUDA instructor
CMAS instructor
Specialist trainer:
Night diving
Digital underwater photography
Dry suit diving
Wreck diving
Enriched Air diving / NITROX (Emergency oxygen provider)
Emergency oxygen provider
Deep diving
Search and Recovery diving
A whole life dedicated to "The Blue"!
My love for the sea started early on … I begun my studies at the MARINE ACADEMY "ALEXANDROS ONASIS" and at the same time worked as an engineer at the Perama Shipyards (1975-1979). I graduated in 1979 and became a Merchant Marine Engineer having earned 3 scholarships at the same time. From 1979 to 1981 I served at the Hellenic Navy, were I was honored with a commemorative plaque given to me by the Commander of the naval ship I served in!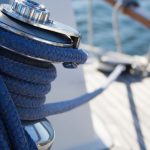 1982: The dream becomes a reality!
In 1982, the dream becomes a reality, managing to combine work with pleasure, starting this way the long journey!
First station, Cuba:  It was there that my love with the underwater world began,  doing dives whenever I was given the chance.
Next stations, Russia, Canada, Argentina and the amazing crossing of the  Amazon river from Buenos Aires!
Next stop was Brazil, a place I have visited four times due to its beautiful marine landscapes and sealife. Sao Paulo – Rio De Janeiro – Vitoria, are some of the places I've dived while I was there on work. During the eight years of touring the world – having only small breaks – I have visited and dived in countries and places like Japan, Yokohama and Tokyo, Korea, Inchon, Pusan, Ulsan, Sri Lanka, Colombo, Malaysia, Canary Islands, Spain and France!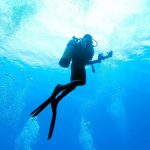 1993: A journey stops only for another one to begin
It was in 1993 when I decided to "disembark" but not lose this special connection I shared with the sea! It was for this reason that, as a one-way decision, I established "Vithos 3" in Holargos, my first diving center. From that point on, diving became a profession and love, at the same time.
In 2003, I relocate the Diving Center to its current location and in 2012 I change its name to Amphibious Diving Center, combining  not only my own personal touch, but that of a close group of friends who became students and also of students who have become and remain up till now very good friends!
Finally…
With over 9,000 hours of living underwater, I feel twice as happy….not only because I pursued my dreams and lived with tension, but also because I still have beside me people who share with me the same "madness" , the same love and the same respect for the sea and its inhabitants. For these reasons I thank the Lord….. and Poseidon, every day 🙂 !